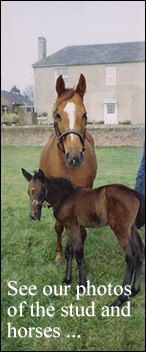 George, Lesley and Rachel welcome you to Chandler Manor Farm Stud, the highest farm on the Berkshire Downs. Situated within The North Wessex Downs Area of Outstanding Natural Beauty, the farm has far reaching views giving peace of mind and tranquility.
The farm has been owned and run by the family for over 100 years, George Lesley and Rachel all work together to give your horse, top quality conditions, care and facilities. Rachel is qualified as a McTimoney Chiropractor and a Remedial Sports Massage Therapist for Humans and is replicating this for the horses which she does in conjunction with her work on the Stud Farm. www.rachelchandlerchiropractic.co.uk.
All horses are given the highest quality care throughout the year with conservation grade hay, haylage and straw, facilities include a monarch horse walker, all weather arena, off road hacking, gallops and fresh maintained pastures. For years they have given care and attention to many horses who have gone back into their disciplines successfully. Some have returned year after year for a break or recuperation, and some have remained for retirement.
Chandler Manor Farm Stud offer all types of Full Livery including:



Laminitis and Cushing's


Sweet itch


Holiday boarding


Hunter livery


MARES FROM CENCEPTION TO FOALING


Competition livery
All are provided with a friendly service and competitive rates, for more information please contact Lesley on 07767 355 435 to discuss your requirements.